Social interaction feels more important than ever and as e-commerce grows, so does the need to be able to communicate in that channel during a shopping experience with people who share the same interests and who we are happy to turn to when we make decisions and get taste advice, to reduce the risk of mistaken purchases. The technology enables us to shop socially together and follow each other's shopping journey even on an e-commerce site with 3bits Social shopping.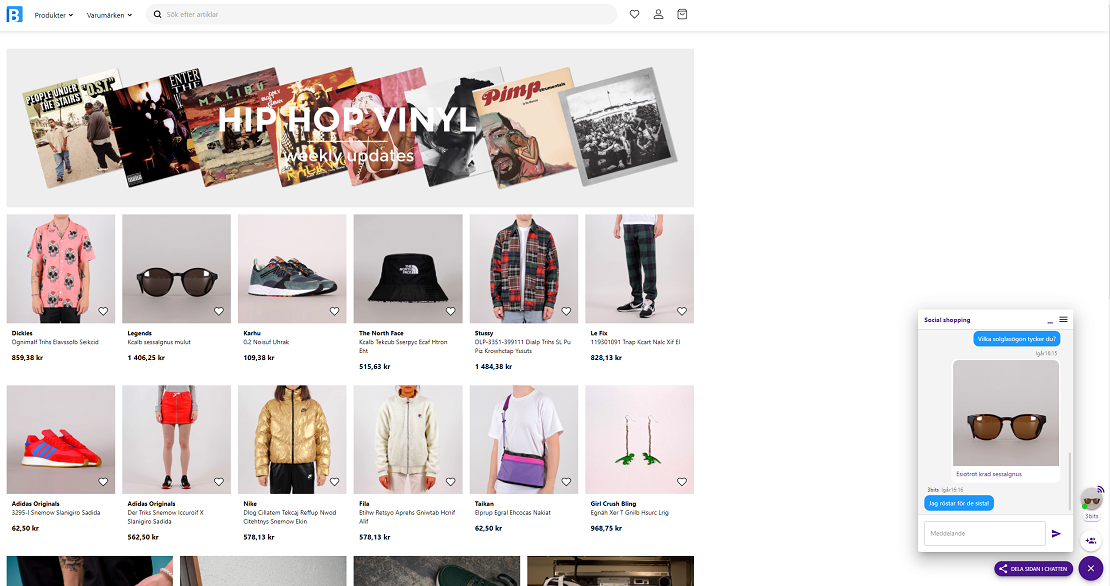 Sharing your shopping experience with someone online directly on the site without just using different social media enables customers to easily share information, interests and activities with each other.
By installing 3bits Social shopping on your site, you can offer your customers an easy way to shop together.
Follow a friend on a shopping journey

With 3bits Social shopping, customers can join a group chat where they invite their friends and then can see which page the others are on, share products in the chat and also choose to follow a friend during the shopping journey to see their friend surfing the site.

When a user in the chat changes the URL, the page's Open Graph (OG) image or largest image is sent and used as the user's avatar. If you click on the avatar, you land on the same page as your friend.

You can also use the chat as a notebook and share products with yourself for easy access later if the chat does not end.
3 month trial period free of charge
3bits Social shopping is offered as SaaS (Software as a Service) with a 3 month trial period free of charge. After that, the cost is currently SEK 2,000 ex VAT per month and domain for the basic version. If you sign up for 12 months, on the other hand, the monthly cost will currently be SEK 1,800. We reserve the right to change both basic cost and levels based on consumption. Change can take place before a new payment period. The service runs until you cancel it by contacting sales@3bits.se. No refund will be made of the current period.
After you have registered, you post our snippet on your page and are ready to get started. 3bits Social shopping supports Swedish and English and can also be themed to fit into your graphic profile. It is also possible to control position so it does not hide important elements on your site.
We at 3bits do not use the data from 3bits Social shopping for any marketing, resell it, or in any other way that is not necessary for the function. You as an e-tretailer can get anonymized statistics when you request it.
Microsoft Azure is used for hosting to quickly scale up.
Can be further developed
3bits Social shopping has the opportunity to develop together with you as a customer, new functions can be added, for example if you would like to integrate with the e-commerce system. We are happy to take this concept further together. Fill out the form below and offer your customers to shop together today.
Try out 3bits Social shopping
Make it possible for your customers to shop together on your site. Fill in the form and we will tell you more about how you can try it.