The role of the physical store in our digital future
Jack Stratten, Head of Trends at Insider Trends and retail expert, shared exciting analyzes and insights about the role of the physical store as our world becomes more and more digital.
He talked about examples of consumers being more polarized today. Many customers want retailers to become more sustainable, but in the same survey, more customers are concerned about cost than sustainability. There is a difference between what we say and what we do.
Customers are not only more complex, but also more and more disloyal where they shop. It is something that has also been noticed in the grocery trade in Sweden now that prices have increased dramatically in the past year and more consumers are choosing to shop in more stores than they did before in order to look for extra prices.
Jack thinks that you should try to monitor how e-commerce develops where it's not just about buying. He shows several examples of what you can do online where you mix content and sales. Visualization is getting better and better on the web, you can try furniture at home, different lipstick colors. Vans and Roblox have a collaboration where you can easily order home shoes that are the same as you customize for your avatar in the game. The connection between the Metaverse and sales in real life.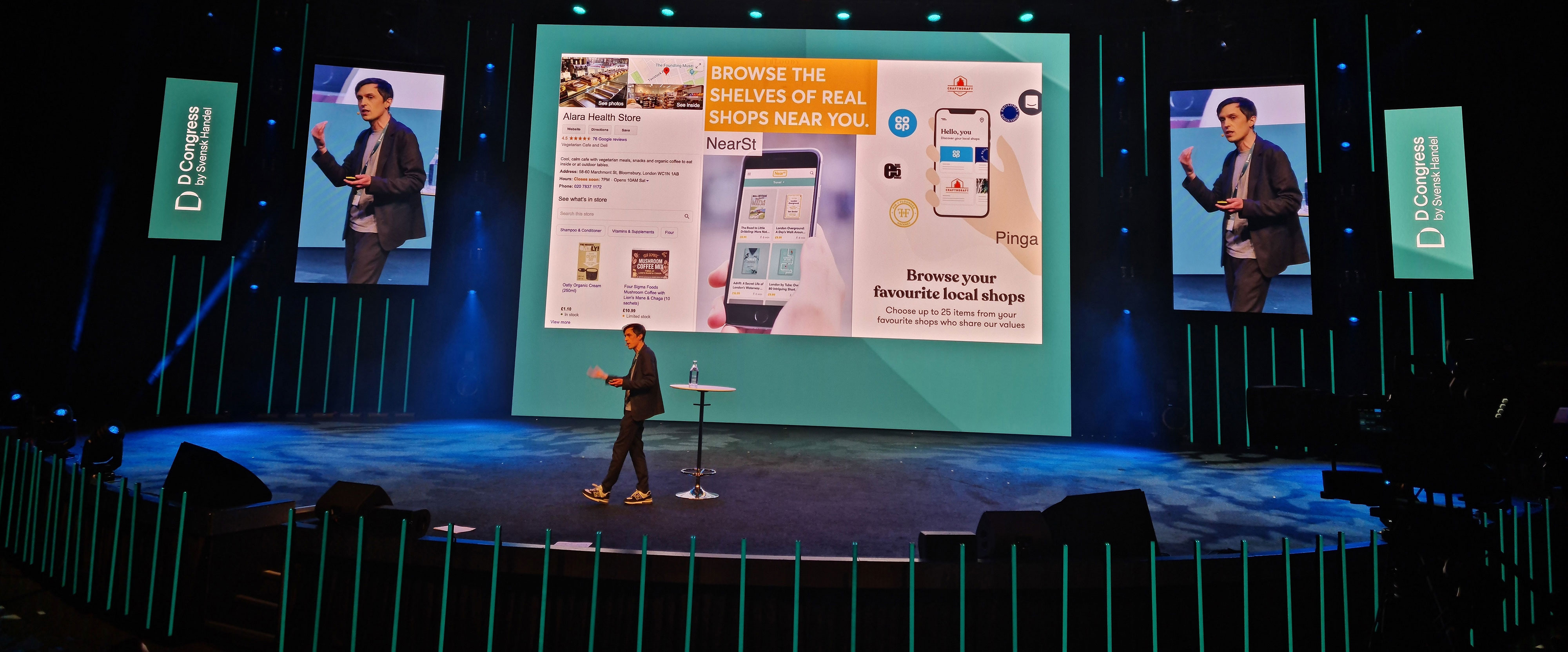 Something that has worked very well, especially during the Pandemic, is various forms of store employees who offer digital shopping assistance in different channels. It can be anything from staff shopping digitally, live shopping and live chat with employees. The conversion has been high for those who can take advantage of their knowledge and spread it to those who cannot or do not want to come to the store.
When he travels the world and monitors retail trends, he usually examines the purpose of the store in relation to the digital.
If there is a clear purpose and a clear connection how the physical and digital should work, it is usually a more successful concept. He believes that creating the experience first when designing a physical store and then focusing on sales is important to consider when developing stores in the future.
Become sharper in e-commerce
Arash Gilan, CEO and co-founder at Viva Media and Nic Staeger, CCO at Nordiska Galleriet with extensive experience at several different e-commerce companies, talked about the book En djävel på e-handel that they wrote together. They talked about a few different ways to get sharper in e-commerce:
The constant and the variable – They talk about technology being a variable to reach the constant which is the human being. Technology will change much faster than basic human behavior and needs. We have always had an interest in a personal buying experience – that relevant products are presented to us. Now technology makes it possible for us when we don't just have the small local store to go shopping where the shop assistant knows us by name and knows what we usually buy.
Price – The "right" price depends on much more than just the competitors' price, Nic believes that you should not stare blindly at it but instead optimize between price and profitability where customers choose your products. How many people view the product, how good is the conversion? Use all the data available today.
Brand – Arash shows a simple model for working with what makes you unique and making you stand out. Points of Parity – The foundation of your industry. What must be there for you to be an alternative. Points of Difference - It is, however, what makes you more unique. Here you can look at competitors who are doing well and see what is special about their offer. Place your offer next to it and compare - what is the difference and how can you stand out?
Optichannel – They believe that it is important to divide offline and online and handle them in slightly different ways just so that they are experienced equally. In the stores, they think it is important to have a locally adapted assortment, the right price and customer service. Whereas on the web you can work with a full range, the right price and fast deliveries.
Many interesting thoughts to delve into when the book lands in the office.
Ways to reach consumers
Deann Evans, Director of EMEA Expansion & Partnerships at Shopify, talked about different ways to reach consumers going forward. Offline is a path where stores will have a new meaning in the future, where you can work with both store space and store staff in new ways as inspirers and connect online and offline. Just like Jack Stratten future trends the day before. Social commerce is another area where they see great growth. For Shopify merchants, they have seen a fivefold increase in orders from social media from Q2 2021 to Q2 2022.
Web3 offers new opportunities to reach customers in a creative way. Tokengated commerce where you can offer exclusive offers or products for those who, for example, have an NFT. Starbucks already uses a loyalty program like this. She talks a lot about innovating the way you sell. If you can work with collaborations, it can be a successful way to reach new customer groups.
Foresight for B2B
Arne B Andersson, Senior e-commerce advisor at Svensk Handel, talked to Peter Settlin, CEO at Litium, about the future of digital B2B commerce. They talked about Litium's annual report, Nordic Digital Commerce in B2B, where the next annual report is presented in May. Their surveys show that wholesale has come further than the manufacturers, where they continue to see great opportunities to digitize the business. 30% of the Nordic B2B companies in the survey have no digital sales at all, not even sales support.
They have developed a maturity ladder with five steps because there are different levels of selling digitally in B2B. Arne recommends mapping yourself in there and doing a self-assessment and also checking the next steps to be able to see your way forward to become even more digital. The higher up the ladder, the more you use the data you have to drive the business forward.
Peter mentions digital salesrooms as an example of starting digitization for B2B companies. There, sellers and customers can gather to collaborate and find the right set of documents without them being scattered in several different places and sometimes in someone's personal folder. If you don't want to invest in full-scale e-commerce right away, it can be a good gateway.
We have also previously summarized the report in an article on 3bits.se.
Don't miss the chance to see the presentations that are available until March 31 and book in for March 6-7, 2024 when D-Congress by Svensk Handel is back in Gothenburg.