Have you shopped on a consumer site and wished that there were equally flexible checkout solutions for B2B online as well? Then a payment platform can be something to look at more closely to simplify purchases digitally for companies.
B2B is inspired by B2C
Many years ago, it could be tricky to pay on an e-commerce site, especially if you used a mobile phone. With a focus on making the checkout smoother and more flexible, it is now often quite painless to get your order through – if you are a consumer. When it comes to B2B, there is a lot to be inspired by from B2C sites, both functions and flows that we are used to have found their way into digital business sales. In many situations, we expect to be able to have a similar experience when we shop online, regardless of whether we buy privately or to the company. This drives the development of B2B sites, a smoother shopping experience increases the conversion rate and gives more satisfied customers.
Reduce the risk
As an e-merchant, you do not want to risk selling to someone who will not pay, or to deny a customer who would actually pay and where you instead lose revenue. AI and machine learning will be able to help in the future when risk assumptions regarding credit are to be made more secure. It can also help you reach new customer groups that increase your sales.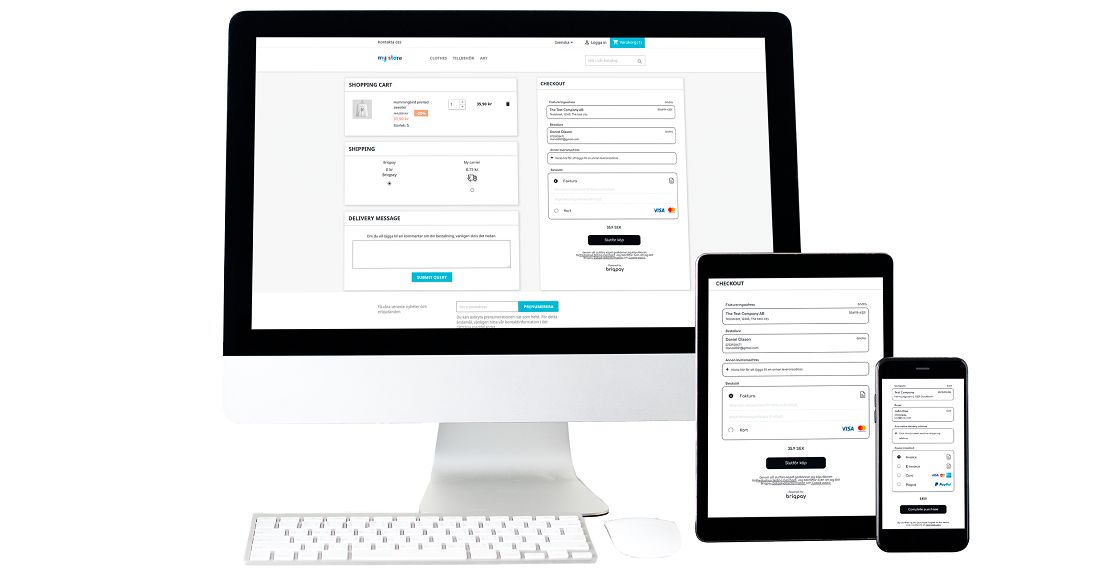 Payment platform for B2B
A payment platform for B2B is an effective solution for creating your own flows that suit your business. The user-friendly checkout can now also be offered to corporate customers. The goal is a personal and fast checkout that helps increase business sales online. In addition to handling digital payments, there are prerequisites for scheduling payments for recurring purchases and invoicing.
Maybe you have a need to be able to offer purchases with a down payment or to be able to combine payment methods, that you as a customer can pay 20% on a card and the rest on an invoice. And later have the opportunity to take everything on invoice. Or to control at customer-specific level whether different invoice lengths can be selected and also the possibility to add an extra amount for a longer credit period.
Create the desired customer journey
We at 3bits are partners with Briqpay, who offers a payment platform and a registration flow for B2B. With just one integration with Briqpay, companies get access to all desired payment methods, locally or globally. Which makes it easy to grow and at the same time offer a local experience at an internationalization. Regardless of whether you offer your own payment methods such as your own invoice solution, card acquirer, PSP or alternative payment methods, companies can easily add, replace and thus create the desired customer journey with full flexibility.
With a payment platform, companies can get the tools to create a good customer experience and a customer journey completely adapted to the needs. Feel free to contact us if you want to know more about how digital payments for companies can be simplified.