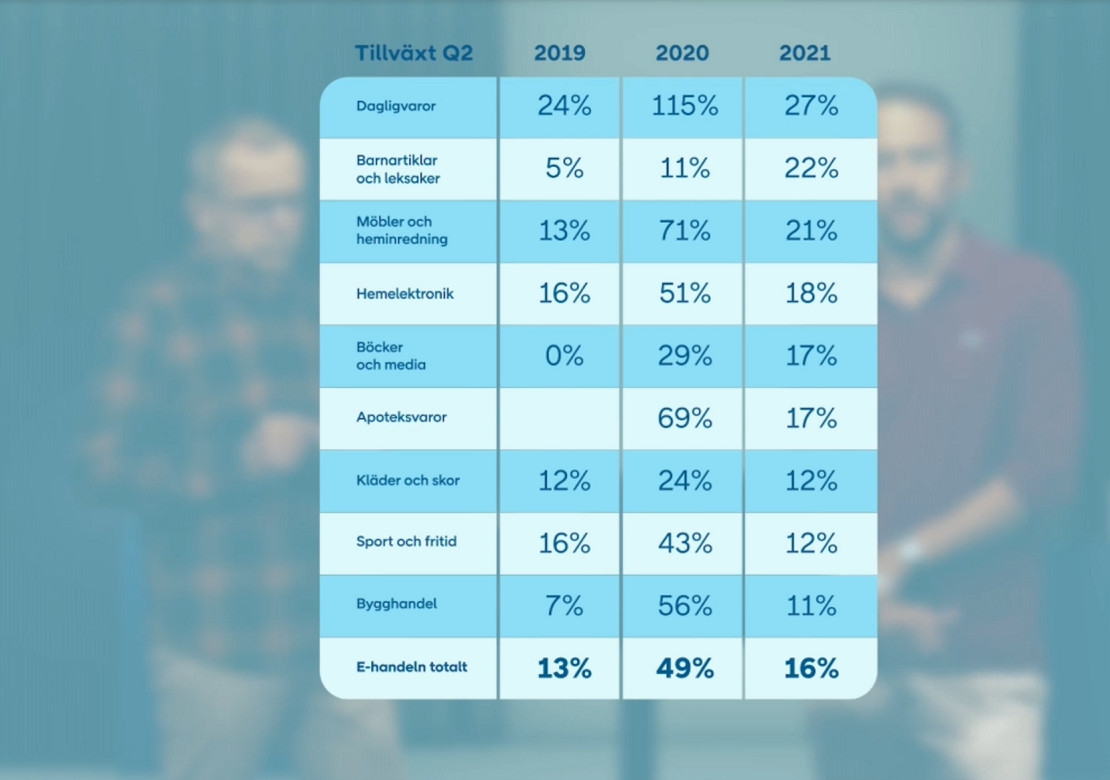 E-barometer Q2 2021
Arne Andersson, E-commerce advisor at PostNord, presented the report E-barometern for Q2 2021 together with Carl-Fredrik Teder, Retail Analyst at PostNord. With the extreme growth figures to compare with Q2 2020 (49%), the growth for Q2 2021, which lands at 16%, is an incredible growth.
Q2 2020, which was the first full quarter with the pandemic, showed a growth for groceries of 115%, this is followed up the same quarter this year with a growth of 27%, the largest increase for a single category in the report.
This behaviour is here to stay, many of the new e-commerce consumers continue to shop in online stores, even when the return to physical stores becomes possible. Integrating the digital channels with the physical ones remains extremely important. A positive trend that continues is the satisfaction of e-commerce customers that is only increasing.
The report shows that flexibility and speed outweigh consumer sustainability in the choice of delivery method at checkout. Arne Andersson believes that parcel boxes meet customers' demands for flexibility and the spread of these will continue. The delivery alternative has a steady increase where the delivery point loses ground.
A novelty is the interactive report E-Barometern where you can work with forecasts. A tool that is interesting to look at both to see trends and forecasts and also to see historical data from the report E-barometern. Test different scenarios to see what may happen in the short and long term until 2030.
Read the entire report E-barometern and discover the interactive version.
Towards the perfect checkout experience
Patrik Stoopendahl is a doctoral student and business anthropologist who has been lecturing on digital consumption, marketing and e-commerce for almost 10 years. Patrik has followed ten Swedish households' consumption habits and customer journeys for a year and talked about customer behaviour and the changes he sees there.
A shift that has taken place is to go from showing the product to telling about the purchase. Sharing with others and listening to others' experiences during the buying journey is connected with this change. Who you are influenced by changes, there are many touchpoints that are not owned by the brands themselves where we are fed with different information about the products without the companies being able to control in detail what the customer journey looks like.
An individual day is filled with parallel customer journeys in different phases and is shaped within the digital infrastructure. Preliminary results in his research suggest that price, ratings, content and algorithms mean more than we previously thought.
Patrik believes that the amount of information is relevant, the customers are well-read and want to read more. On a product page, there are all possibilities to present more information to facilitate purchases. For the business of the future, we need to better understand how decisions are formed with the support of the digital infrastructure that commerce builds.
Checkout optimization
Steffen Haferbier is a Senior UX Auditor at the Baymard Institute, which is an independent institute for research within UX. He presented surveys from a study on user experience for e-commerce.
Reasons to abandon the shopping cart at checkout
Baymard has looked at an average of 44 different studies showing that 69.80% abandon their shopping cart during checkout. The main reason is that extra costs are added to the cash register. Steffen says that you can think about whether you can be more transparent with costs already in the shopping cart without having to go through the steps at checkout to find out the total cost of the order.
In 2012, a checkout had an average of 5.08 steps according to Baymard's surveys. In 2019, there was almost no difference, 4.93 steps on average to check out. He believes that the number of steps in the check-out is not equal to a good checkout. What they found in their studies is that the number of fields in the check-out, on the other hand, affects. 8 form fields instead of 15 play a bigger role than 3 steps in the checkout compared to 5. He suggests thinking about whether you can move the account creation to the confirmation page and to see which fields you can delete completely or merge. Location is such a field you can instead look up using postcodes.
Increasing volumes in a sustainable society
Ellinor Persson moderated professionally during the day and then led a conversation about increasing volumes in a sustainable society together with Peter Hesslin Head of e-commerce from PostNord and Sara Bergman who works at Svanen, which is the Nordic region's official eco-label as Criteria Manager and sustainability manager. Tom Thörnblom, Head of Communications and Sustainability at LYKO, which is one of the Nordic region's leading specialist companies in hair and beauty care, was also involved in the conversation.
The Nordic Ecolabel has conducted a feasibility study on requirements for sustainability in deliveries. It is hoped to have the first Nordic Ecolabelled transport at the beginning of 2023. Transport and logistics companies will be licensees for the investment. Sara talks about the clash between speed and durability. When, for example, flights are chosen instead of railways, or transports are not full. Tom says that they at LYKO wait until the transport cage is full before it is driven away with PostNords delivery option varubrev, instead of letting half-full transports go more often. If the label meets the requirements of e-commerce, Peter Hesslin believes that this drives the entire industry in the right direction.
PostNord wants to highlight good examples that are good at reducing air in packages, by using consumer commitment. Every third package sent in Sweden today consists of air, something that must be reduced to develop a more sustainable e-commerce. Join and help lift the industry's most air-efficient e-commerce company, go in and nominate PostNords Airfluencers later in October at https://www.postnord.se/airfluencers.
And book February 22, 2022 in the calendar when it's finally time to physically see each other again at PostNord Retail Day 2022.