During the event Almedalsveckan in Sweden, Swish and HUI presented their report Restaffed – the new store experience (in Swedish) during a seminar that was also broadcasted live on YouTube. The buying journey has become increasingly complex that today can start in the store or online, on a price comparison site or via social media. More and more people have grown up in a digital environment, digital natives are estimated to be 43% in 2030 in Sweden according to SCB and HUI. Accustomed to e-commerce and digital consumption, they expect a smooth, fast and frictionless experience where the stores need to adapt. In the survey, consumers aged 18-29 stated to a greater extent that they avoided entering a store if there were too many other customers there, that they left a store because the checkout line was too long, and that they are more restrictive about show what they have in their shopping cart. In addition, 1/3 state that one of the main advantages of self-scanning checkouts is that they can avoid social contact.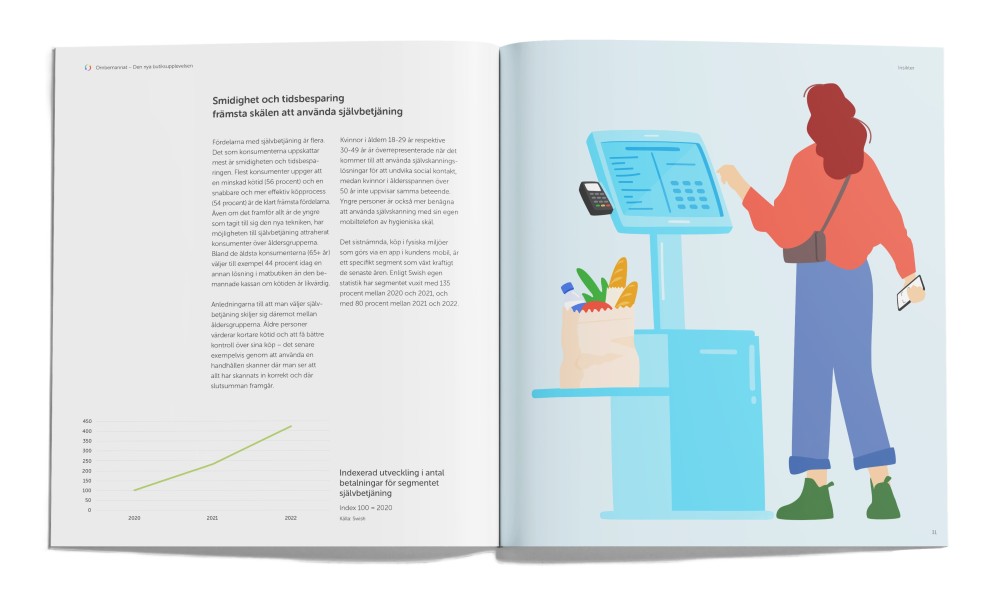 Digital store solutions and experiences
E-commerce profits from the benefits that come with digital technology – including the vast amount of data collected about customers, purchases and behaviours that can be used to improve sales and the shopping experience. Another advantage is that it is possible to stock a larger assortment.
Self-scanning is one of the first examples of new technology being implemented in retail. During the 90s we could see it in grocery stores abroad and at the beginning of the 00s in Sweden. It also began to spread to other environments where self-service check-in stations could be seen at airports.
Unmanned stores have only become more and more common, especially in sparsely populated areas. Technologies used to make it possible to create new digital shopping experiences in stores include BankID, QR codes and RFID. Hybrid stores are also emerging that are unmanned during certain parts of the day. It has been able to improve both the profitability of the stores while at the same time consumers have been able to receive better service.
The entire trade, from grocery stores to clothing and furniture stores, has started using and testing different mobile-based shopping experiences in recent years, ranging from self-checkout, self-scanning with own apps or hand-held scanners or a completely unmanned store. In the survey from March 2023, 58% answered that they had used self-checkout in a grocery store and more than half had self-scanned with a hand-held scanner. These new technologies have also meant that queue times have been greatly shortened in several stores.
New opportunities for store employees
The new technical solutions, where the customers themselves take care of most of the purchase, enable employees who would otherwise have been stuck in the cash register to devote themselves to other more customer-related tasks and provide better service. Some stores have started equipping employees with tablets or mobile phones where they can solve payments, help order online if the product is missing, or just help with more information or product recommendations. This type of staffing is both cost-effective and creates added value for the customer. This is just the beginning of how the new store experience is designed.