With a newly developed shelf configurator, Gerdmans has made it easier for the customer to build shelf systems from Gerdmanshyllan. With the configurator, the customer saves time and many errors are avoided with increased customer satisfaction as a result. The fact that sales have also increased significantly is an extra bonus for Gerdmans.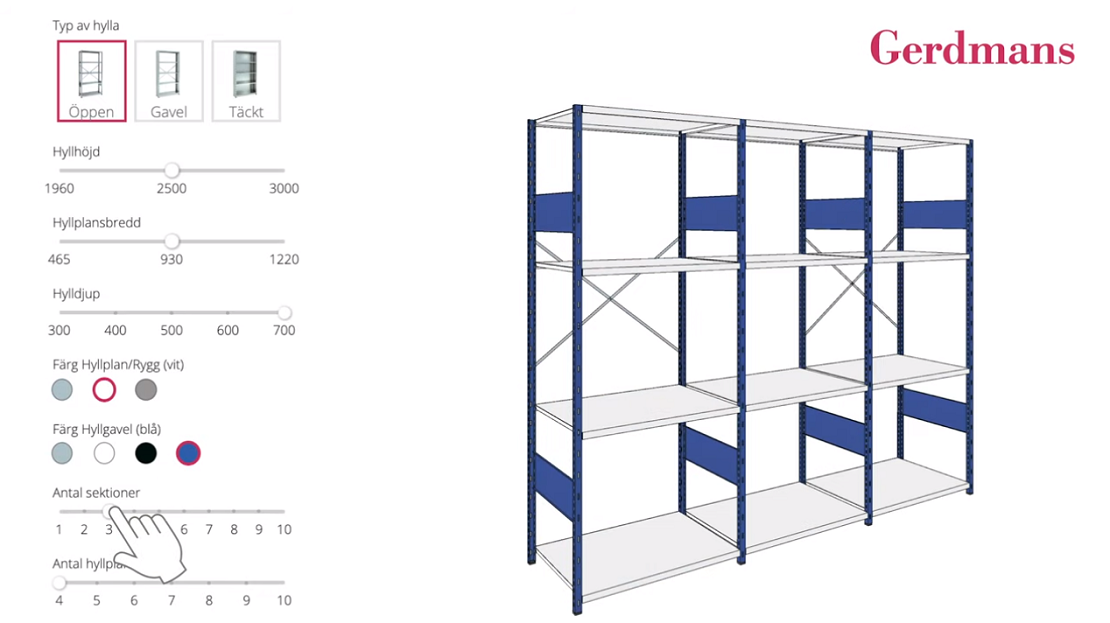 Gerdmanshyllan - a long tradition
The shelf system Gerdmanshyllan has a long tradition since the start of the company in the 40's when the warehouse system began to develop. Gerdmans now has over 16,000 items for offices, conferences, warehouses and industry. The own shelf system fits in a warehouse as well as in an office. It is a stable and durable shelf made of steel where each shelf and section can withstand high loads.
Gerdmanshyllan is made up of gables, shelves, backrests and shelf hooks. These customers previously needed to pick up parts individually and add to the shopping cart. To facilitate, there were various ready-made combinations, but with limited choices.
If you were to buy a shelf with several sections and shelves, you would have to look for several different products. There was also a risk that you then chose different color, width or depth. If, after you start, you find that you want to change some parameter, such as color, width, depth or type of gable, you had to start all over again.
Shelf configurator - for increased flexibility
A shelf configurator was developed to easily get the Gerdmans shelf exactly as the customers want it. Whether it is a small or large solution, you can get started directly with the shelf system. Choose height, width, color, gable type or one of the other options and the shelf configurator creates a list of all the parts you need, ready to put in the shopping cart.
The benefits achieved with the new system are that customers can:
With one click change color, width and other parameters.

See the shelf visualized.

See how the price is affected by the different choices made.

See the total price.

Get a summary of the size of the shelf system.

Get a summary of included parts.
The new solution has also increased sales when it is now easier and more flexible to order everything that is needed.
- The shelf configurator that we have developed in collaboration with our development partner 3bits helps our customers. As a customer at Gerdmans, it has become much easier to assemble the basic components that a warehouse shelf consists of, this in turn has meant that more of the purchases of warehouse shelves have been carried out by the customer himself, says Johan Wiktorsson, Head Digital at Gerdmans.
Easy to configure
An important input parameter for the project was that it would be easy to configure for the employees. Therefore, it was decided that all configuration would be done in inRiver, which Gerdmans uses as a PIM system. A couple of fields needed to be added to identify the products as configurator products, but otherwise almost everything was already in place.
When determining the technology for the user interface, the choice fell on Vue.js. Vue.js is a lightweight JavaScript framework that is well suited to plug into an existing technology stack, which made it the obvious choice when the shelf configurator was to be developed.
Now, with a few clicks, customers can build the Gerdmanshyllan with the shelf configurator and be sure to get all the right parts needed.
- Our shelf configurator has been a well-executed project where we are very happy about the collaboration and the result together with our partner 3bits, Johan Wiktorsson concludes.
Gerdmans has everything for offices, warehouses and industry. With over 16,000 articles in their product range, there is a lot to choose from, you can find everything from office furniture to decorating your office to the workshop storage for the industry. With professional advice, free shipping with fast deliveries, a minimum warranty of 7 years on all items and assembly assistance, Gerdmans is a comprehensive supplier for all types of companies.