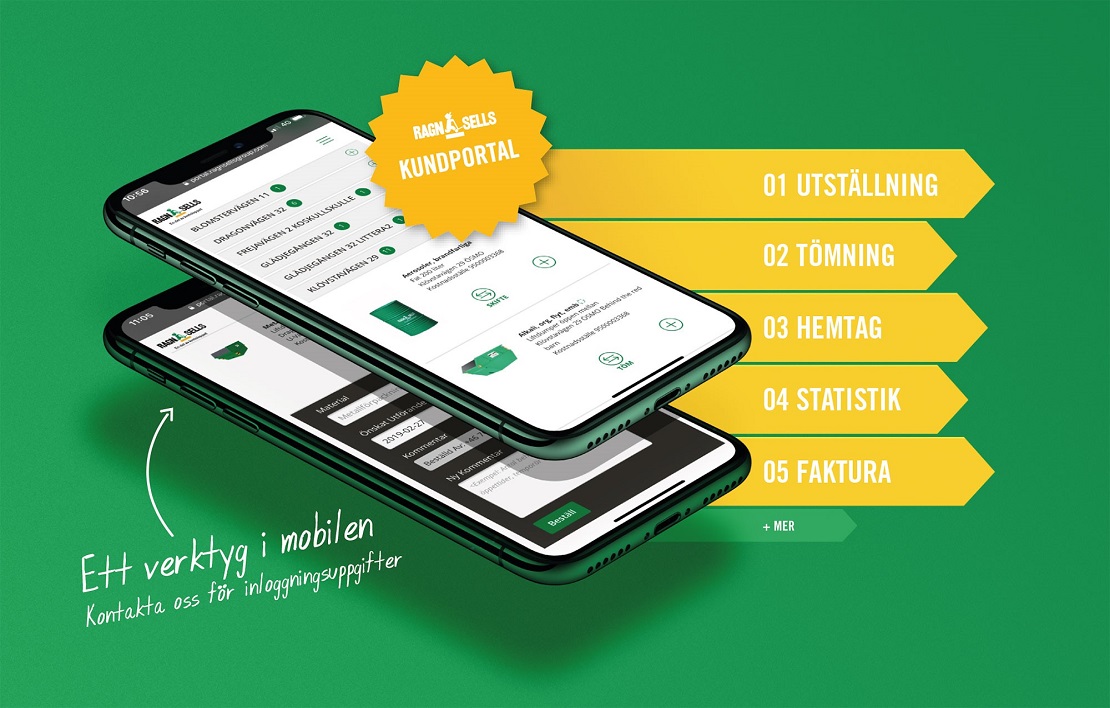 Ragn-Sells Group CEO Erik Sellberg had made up his mind. The sales organization should be relieved and work more with corporate sales, and the smaller businesses should be moved to a modern online store. The result was an e-commerce site where both private customers and companies could order smart bags, and schedule emptying. This was successful and soon they could also offer larger customers a portal with services that make administration easier.
– When I was hired as CIO for Ragn-Sells Group, our CEO, Erik Sellberg, stated that he wanted an e-commerce solution for private customers, and a customer portal for our corporate customers. We have now delivered these to Ragn-Sells Group's completely new digital solutions. It took us 6 months to develop them for Norway and Sweden, and we now continue with East Europe. In a short period of time we will also be able to offer the solution to our Russian speaking customers, a unique competition advantage, says Maria Gustafsson.
Differences Solved with Middleware
– The most challenging part of the project was to understand the business logic. How the customers think, and how they want to use the portal. There is also a lot of rules and regulation in the recycling business.  It is all about having working flows, says Ola Linde at 3bits who delivers the solution.
But there is another challenge that also demanded a creative solution. Since Ragn-Sells operates in several countries, the portal needs to work everywhere, despite backend and local business logics. The solution was an integration hub that connects the different systems for each country to the customer portals – a solution with great advantages.
– Right now we have completely different business systems in each country, but by having a middleware that understands every unique backend, we can reuse the investments we do in the project everywhere, and also change the business system without having to change the net shop or customer portal, says Maria Gustafsson, CIO at Ragn-Sells Group.
Makes it Easier for Everyone
With the customer portal, Ragn-Sells' customers can log in and do anything from ordering emptying of containers to watching invoices. They can see statistics for containers, and access different documents. It saves both parties several phone calls, and makes it easier for the customers to act dynamically out in the field. Although the customer portal hasn't been up and running for that long, they have already seen that it is not just a successful venue, but also a service that has been a decisive argument for several new customers.
– Several have mentioned that we have the most functional customer portal in the business, and that is of course nice to hear. It is great when IT and business can be connected this tight. It is the way it should be, says Maria Gustafsson.
Young and Speedy Company
Maria Gustafsson means that it would never been possible to get a project of this size up and running in such a short period of time unless they had help from an experienced consulting company. The first pilot launch of the portal was already after nearly three months.
– When I got these assignments, I was looking for an experienced, well-respected and established partner to develop our digital web platform. After a solid evaluation process, 3bits was my choice of IT supplier. Without them by my side, we would never been able to create these success stories cost efficiently and in a short period of time, says Maria.
The collaboration has given an appetite, and will go on. In addition to the continuous maintenance of the customer portal and net shop, they also develop a down-scaled version for private customers. The idea is that it should be released during 2015.
It all started as an idea for relief for the sales organization, and have turned out to be one of Ragn-Sells' strongest cards.
Producerad by IDG Content & Marketing Services.
Ragn-Sells is Sweden's largest waste management company that every year collect, treat, deposit, and recycle 4 million tons of waste. Ragn-Sells are represented all over Sweden with approximately 1,500 employees in the country. Every day, thousands of assignments are carried out for businesses in all different industries – but they also carry out assignments for households. The company is also represented in Denmark, Norway, Estonia, Latvia, and Poland. The Group's annual sales exceeds SEK 4 billion, with 2,300 employees.