On January 29, Litium's annual Accelerate event was held. From several of our customers we had a question with us. When will Litium come with its implementation on Elasticsearch? This is something that Litium has been talking about for a time. The answer didn't last very long. Already on the train up to Stockholm we received a newsletter from Litium that version 7.4 has been launched with Elastic in the change log. Of course it is no coincidence that they chose to release the next version the same day as Accelerate and we understood that we would know more during the day.
The event was held at Scandic Continental on Vasagatan a stone's throw from the Central in a reasonably well-stocked room. Apparently there were participants on the waiting list. The morning was exclusive to Litium's partners while customers appeared in the afternoon. The day started with the acting CEO Peder Holmberg speaking and then he introduced the new CEO Patrik Settlin who will take up February 10 and leave Visma.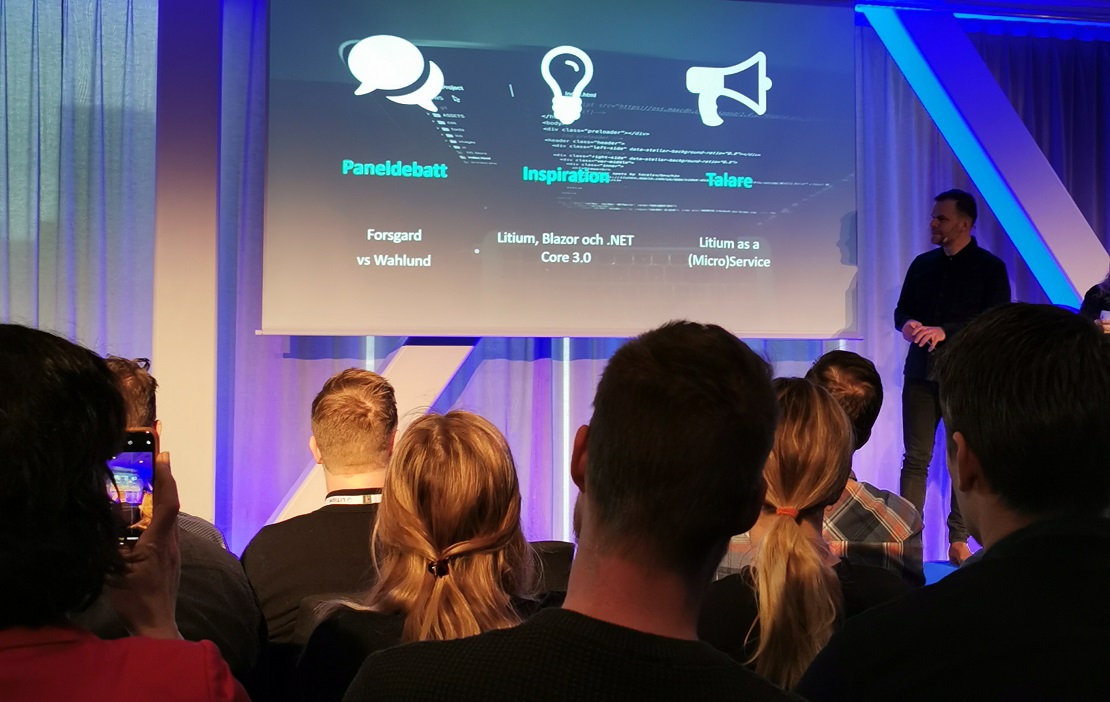 Next to the stage was Spoton, which presented a nice initiative with a developer conference called DEV.STAGE.LITIUM, to be held in Gothenburg this fall. No date has been released but for the interested person you can go to https://spoton.se/dev-stage-litium and report your interest. From the audience it was requested that the conference should be held in English, so I would guess that our foreign friends can also attend. The idea is that Spoton takes hosts the event the first year and then it will go around among partners.
Then it was divided into a technology track and a business track where we, Yann Hervy and Niklas Larsson, chose one each to cover both. On the technology track, we got to listen to Ludvig Block (CPO), Anusha Ganegoda (Software Architect), Linda Glimring (Product Manager) and Patric Forsgard (System Architect). Together they presented what was new in 7.4 and the roadmap ahead.
Litium 7.4 includes a new REST-based WebAPI for loose integration called Litium Connect. Advantages of this is easier maintenance and deployment without downtime of the storefront as the integration goes into its own process and is also well suited in a microservice architecture. Also, which version of Litium you run against becomes less interesting as they do not expect any changes in WebAPI in the future.
The implementation of Elasticsearch is called Litium Search. The great benefit Litium sees here is that all nodes in a Litium cluster will run the same Elastic index, which was not the case with the previous implementation of Lucene. There was a lot of talk about Litium Cloud, so we had to make sure that this was not a problem for our customers running OnPrem. Later in the day we learned that in Litium admin you will be able to set synonyms for Elasticsearch yourself, for example if you search for "sneakers" and want to get hit on "rubber shoes", "training shoes". At lunch, we had the opportunity to share table with Ton who is a developer at Litium. I asked him how standard Elastic implementation is to ensure that you can turn on the low-level settings regarding so-called "stemmers", search-mappings etc. It would not be a problem according to Ton, and it is also possible in admin to set which fields you want to include in the index.
It was also discussions about Redis and its Distributed Cache and Service Bus. Something that already came in 7.3 but that feels most relevant to the customers who run Litium in a cluster. Redis Distributed Cache's performance against the previous Azure Service Bus was significantly better.
You will notice that the goal is to leave the former monolithic architecture and move more towards microservices with exposed REST-based WebAPI. This is to create better opportunities for headless storefront, which we noticed that Litium has taken on for real and also mentioned in the business side.
During the Business track, Litium talked a lot about the portal for partners and customers; to be able, under a common area, to follow a customer journey from sales to aftermarket. An area where both Litium and the partner as well as the client get an overview of their platform and can make choices and configurations and also order extra services such as performance tests or code reviews. A portal in the basic version will be launched immediately to gradually be filled with functionality and content. Fully expanded, this portal will of course be very valuable for Litium as a platform. Part of the portal that will be launched early is an area where partners and customers can post wishes for new and improved functionality, and the opportunity to vote "up" the points that they think are important in order to influence Litium's priorities in this way.
Of course, there is also a lot of talk about Litium's Cloud services with Docker containers and there is no doubt where Litium sees its future business.
The feeling is that you want to work close to partners and close to the customer and that you spend a lot of time supporting and making sure that you can manage the aftermarket.
In the last session of the day, it was time for the Litium Awards, where among other things Jollyroom trumped "Customer of the year". Then it became a nice mingle where partner colleagues, customers and Litium employees got to hang out in a relaxed way and exchange experience and knowledge.